Easter Scrapbooking Ideas
Make your Easter memories live on for generations by using these Easter scrapbooking Ideas to create an Easter Scrapbook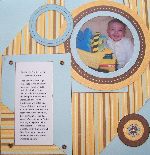 Easter Scrapbooking Ideas? Easter day marks the resurrection of Christ from the death. A period where families have an opportunity to celebrate together.
You cannot remember every fun detail of your Easter holidays, and memories are so easy to lose, unless you let your easter memories live on for generations in your Easter Scrapbook, using these Easter scrapbooking ideas.
However you are going to celebrate your Easter holidays, there is a great need to preserve the memories.

Celebrate and preserve your Easter memories with the help of some of these Easter scrapbooking ideas.
Start your Easter scrapbook by writing down your:
Thoughts
Expectations
Hopes
Beliefs
Wishes
Using the headings below. Divide the items in the list above into three sections.
Before Easter Preparations

How are you preparing to celebrate the resurrection of Christ? What are your expectations?
Include pictures as you decorate your house. You will want before, during, and after for the best effect.

Easter Day
How do you plan to spend your day? Write out a program.
Take pictures of you and your family dressing up for the Easter church service.
Take pictures of Easter eggs that were decorated by the family members.
Include pictures of you, family and friends exchanging Easter eggs.
If you organize Easter egg hunts, then by all means include the pictures.
Include the Menu of your family Easter Dinner. Who is helping with preparations?
Include pictures of the dishes prepared
Include pictures and and little information about each family member present.
Taking pictures of your family during Easter Dinner is very important
If you delegate some of these jobs and you will have time for some fun yourself.
After Easter

Take pictures of family and friends as they are leaving. Are you capturing images of the aftermath and clean-up?
Take time to reflect and write about the significance of the Easter period for you.
Share your Easter Scrapbooking
Layouts with fellow scrappers!!!
Simply use the form below to upload your layout and its "story". Including the supplies. The steps by steps procedures on how the page was created. Every Layout has a story and it's helps others give you the constructive advice that will make you a better scrapper.


PLEASE NOTE: Only Easter Layouts will be accepted on this page.
---
Remember scrapbooking ideas is limited only to your own imagination. We are all unique and have different lives, careers, hobbies, experiences etc from others.
Capitalize on your uniqueness and turn it into your own unique scrapbooking pages.
---
It keeps you informed about unique themed scrapbooking ideas, free layouts, Product reviews, supplies, tips, information etc.

Or you can even share your ideas, suggestions feedback etc that will help us improve our scrapbooking experience.