Christmas scrapbook ideas that will help you celebrate and preserve your Christmas memories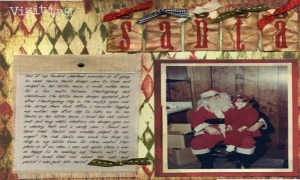 Christmas! A season bringing families together to celebrate. Whether you remember the birth of Christ or some other tradition, preserve the experience in a Christmas scrapbook.
Of course you remember the last time your family got together for Christmas. But are some details fading? What about friends and loved ones who weren't there? Memories preserved in scrapbooks live on forever.
Complete your Christmas scrapbook by journaling down your
• thoughts
• feelings
• plans
• hopes
Divide the items in the list above into three sections. Use the headings below.

Are you capturing images of the aftermath and clean-up? Now is a great time for reflection. Take time to write about the significance of the Christmas period for you. What was most enjoyable?
Your memories will live again and again as you use these Christmas scrapbook ideas.