Christmas Scrapbook Ideas 
Christmas scrapbook ideas that will help you celebrate and preserve your Christmas memories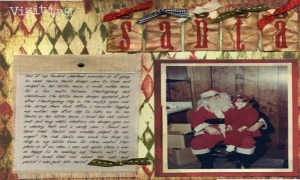 Christmas! A season bringing families together to celebrate. Whether you remember the birth of Christ or some other tradition, preserve the experience in a Christmas scrapbook.
Of course you remember the last time your family got together for Christmas. But are some details fading? What about friends and loved ones who weren't there? Memories preserved in scrapbooks live on forever.
Complete your Christmas scrapbook by journaling down your
• thoughts
• feelings
• plans
• hopes
Divide the items in the list above into three sections. Use the headings below.

Christmas Scrapbook Ideas - Before Christmas Preparations 
How are you preparing for Christmas?
What are your expectations?
List gifts you want to buy.
Cut images from magazines and fliers that give you decorating ideas.
You can also use embellishments, tags, images that remind you of Christmas: children playing in the snow, sleigh rides, roaring fires.
Be sure to include plenty of pictures as you decorate your layout. You will want before, during, and after for the best effect.
Christmas Scrapbook Ideas - Christmas Day Celebration 
How do you plan to spend your day? Write out a program.
Include the Menu of your Christmas feast.
Who is helping with preparations?
Make sure you include something about each guest.
Of course you will take pictures of gift exchanges.
Keep a list of gifts received.
If you delegate some of these jobs you will remember to have fun yourself.
Christmas Scrapbook Ideas - After Christmas Day Celebration 
Do you have photos of your family and friends leaving?
Are you capturing images of the aftermath and clean-up? Now is a great time for reflection. Take time to write about the significance of the Christmas period for you. What was most enjoyable?
Your memories will live again and again as you use these Christmas scrapbook ideas.

You can also get more christmas scrapbook ideas from this article and layouts.
Related Pages
Christmas Scrapbooking: Christmas scrapbooking holds a special place in our albums.
Christmas Scrapbooking Layouts: This is the place where you can submit and proudly show off your Christmas Layout to the world. You'll be able to see your layout on your very own web page. That's right...YOU get to submit layouts and have your own page on this website.
---
Remember scrapbooking ideas is limited only to your own imagination. We are all unique and have different lives, careers, hobbies, experiences etc from others.
Capitalize on your uniqueness and turn it into your own unique scrapbooking pages.
---
It keeps you informed about unique themed scrapbooking ideas, free layouts, Product reviews, supplies, tips, information etc.

Or you can even share your ideas, suggestions feedback etc that will help us improve our scrapbooking experience.