Just Lovely
by Irit Shalom
(Israel)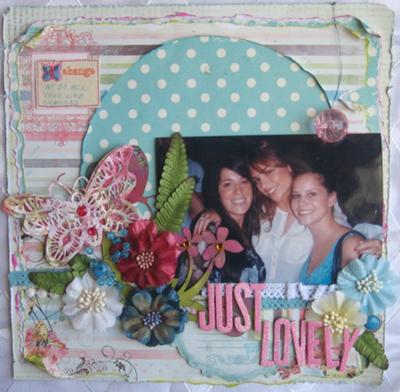 Just Lovely lo
This is a very new page made with my DD 3-4 years old photo from some celebration, and her 2 best friends are there too. I made it Prima oriented as I love this company a lot.

All page is distressed and inked. The bare branch chipboard is covered with 4-5 tones of inks, I also made a home die cut butterfly and beaded branch.The brown chipboard was covered with small Cat's Eyes inks " directly to the chip" and them heat embossed with a Clear Embossing powder for the shine.

And my frugal tips: I didn't actually used the middle paper, but a cut thin frame of it- and kept the inside piece for the next projects.

Also you don't need to buy the pre- made expensive beaded on wire embellishments- you can made your own with some old beads and a piece of wire as I did on this page.
---
Remember scrapbooking ideas is limited only to your own imagination. We are all unique and have different lives, careers, hobbies, experiences etc from others.
Capitalize on your uniqueness and turn it into your own unique scrapbooking pages.
---
It keeps you informed about unique themed scrapbooking ideas, free layouts, Product reviews, supplies, tips, information etc.

Or you can even share your ideas, suggestions feedback etc that will help us improve our scrapbooking experience.