Playschool Scrapbook Layout
Playschool Scrapbook Layout - Storytellers Scrapbook Supplies Reviews and Gallery
List of supplies
From the Storytellersclub Scrapbook kit:
1 sheet of patterned paper
1 sheet of plain red cardstock
1 sheet of plain blue cardstock
1 tag
1 metal charm
Turquoise pen
Additions:
White flowers Joanns
White ink Tsukineko Versamagic Cloud White
Adhesive Hermafix
Silver brads Making Memories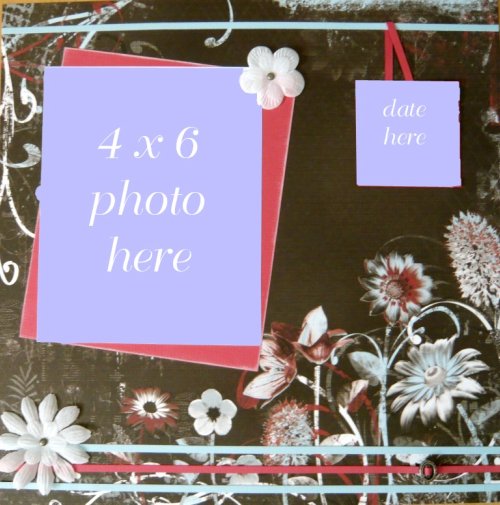 ---
Instructions:
Cut a photo mat, slightly bigger than your photo from the red cardstock.
Edge mat with white ink
Mount the mat at an angle onto the flowery side of the patterned paper from the kit.
Adhere your photo level onto the red photo mat.
Cut 1 thin strip of red cardstock
Cut 3 thin strips of blue cardstock
Thread the metal charm onto the red strip and place it ¾ of the way along it.
Leaving one blue strip aside, adhere the other strips alternately onto the bottom third of the layout
Take the white flowers and secure one set onto the photo mat and one set onto the left hand side of the 3 strips with silver brads
Cut a few more thin strips from both shades of cardstock. Take the tag from the kit and cover the edges with the strips of card.
Take one small strip of red cardstock and attach it to either side of the tag, so that it hangs, using a small amount of glue.
Thread this hanging tag onto the remaining blue strip and then adhere the whole thing to the top third of the layout, above the photo.
Add your journalling to the tag.

Playschool Scrapbook Layout Kits courtesy of Storytellersclub.com.