Father's Day is always celebrated all over the world to commemorate fathers and parenting males. It is always a special and exciting time for father's and children. And father's day scrapbooking gives you a unique opportunity to tell you dad just how much you love him.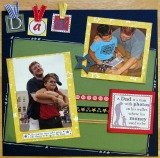 Using these father's scrapbooking ideas with just a few steps of initiative from your side, you can turn a perfect and unique gift for your loving father into a life long memory. 
Here are some ideas for you father scrapbook:
Create a Memory Page. Fill a page with different memories, each detailing a special memory you shared with your father.
Take a photo of you and your dad, then journal your similarities and differences.
Include photos of each of your brothers and sisters
Create a detailed Thank you Page, thanking you dad for the many sacrifices he made for you.
Journaling Idea: You can interview your brothers and sisters on what they love most about their dad.
Include your father's favourite food with the recipe.
The fatherly wisdom he freely gave to you.
Remember that scrapbooking ideas is limited only to your own imagination. We are all unique and have different lives, careers, hobbies, experiences etc from others. So capitalize on your uniqueness and turn it into your own unique scrapbooking ideas for your father's day scrapbooking pages.